If you are looking for acupuncture in the Penzance area then let me introduce myself:-
My name is Kate Wilson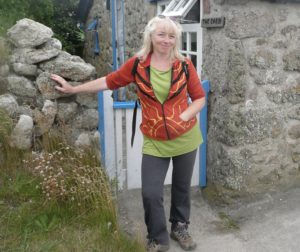 I have been practising acupuncture for over 30 years, helping people who come with a wide range of problems.  But you don't have to be ill to have treatment – many people use acupuncture to prevent illness and to keep well.
Acupuncture is also very relaxing and helps you feel more peaceful.
My training includes using massage and herbs, counselling and healing. My task is to pay attention to your energy or Qi and help it flow in the best way possible for you.   Energy has to keep moving and changing and that's why I called this site The Dance of Qi.
Some people are scared of needles and for them I use a technique that doesn't penetrate the skin, or I press the appropriate acupressure points.
I practise from a peaceful and quiet room in Lamorna, near Penzance.
Contact me
To arrange a session or if you have any questions do call me
Mobile 0779 6000 712
You can also email me at kate@dolphincottage.co.uk
Prices
Consultations and treatment sessions      £50
my treatment room is warm and quiet – a place you can really relax
all sessions are totally confidential and you can talk to me freely
I use only disposable needles
my clinic is registered as an Acupuncture practice with Cornwall Council
there is plenty of space to park at the clinic
on Facebook visit The Dance of Qi page for more healthy living ideas